THURSDAY 6/2
1. THE OPPENHEIMER REPORT: VENEZUELA NEEDS OAS ACTION RIGHT NOW (The Miami Herald)
2. ARGENTINA BACKPEDALS ON GAS RATIONING MEASURES FOR INDUSTRY (Reuters News)
3. ARGENTINA FACES GAS SUPPLY SHORTAGE AMID NEW STRIKE (Business News Americas)
4. ARGENTINA SAYS GAS SUPPLIES IMPROVE ON LOWER DEMAND, LNG CARGO (Platts Commodity News)
5. TALKS ONGOING IN MONSANTO, ARGENTINA GOV'T GMO SOY DISPUTE (Reuters News)
6. MONSANTO SAID TO SEAL DEAL WITH ARGENTINA OVER GMO SOYBEAN TESTS (Bloomberg News)
7. COCA-COLA AGREES TO BUY UNILEVER'S ADES UNIT FOR $575 MILLION (Bloomberg News)
8. ARGENTINA'S NEW REFORM-MINDED PRESIDENT IS FACING HIS FIRST BIG TEST (Fortune)
9. BUY HEDGE FUNDS, BOLT FROM ARGENTINA? (Barrons)
1. THE OPPENHEIMER REPORT: VENEZUELA NEEDS OAS ACTION RIGHT NOW (The Miami Herald)
By Andrés Oppenheimer
1 June 2016
What a shame. The historic decision by Organization of American States chief Luis Almagro to call for an official regional discussion on Venezuela's break with democratic rule may be derailed by a group of countries that say they support democracy, but are really buying time for the Venezuelan regime.
The group is led by Argentina, whose foreign minister, Susana Malcorra, in effect needs Venezuela's backing for her bid to become Secretary General of the United Nations. It is proposing an alternative resolution that it says is supported by more than 20 of the OAS' 34 member countries, and that in effect postpones the Almagro-proposed regional meeting.
The group's draft resolution calls for giving more time to a mediation effort by former Presidents Jose Luis Rodriguez Zapatero of Spain, Leonel Fernandez of the Dominican Republic and Martin Torrijos of Panama "to reopen an effective dialogue" between the Venezuelan government and the opposition.
Malcorra had already told me that much in a recent interview . She said that she supports ongoing mediation efforts by Zapatero and South America's UNASUR bloc to allow a recall referendum in Venezuela — which is allowed by the Venezuelan constitution — but that "the conditions are not there" for an OAS meeting under the group's Democratic Charter to discuss the break with the rule of law in Venezuela.
According to OAS chief Almagro's spokesman Sergio Jellinek, Almagro submitted his proposal under the OAS Democratic Charter on May 31 after Argentina failed to show him a list of countries allegedly supporting a motion to give the Rodriguez Zapatero mediation mission a new chance.
Some OAS member countries say Almagro acted on impulse, without following diplomatic etiquette or consulting with member countries. Others fear that Almagro's action could set a precedent for similar OAS calls for a regional debate on Brazil, or other countries in the midst of political crises.
Almagro's proposed meeting on Venezuela, included in a 132-page report he presented, could lead to creation of a new mediation commission that could demand that Venezuelan President Nicolás Maduro accept the laws passed by the opposition-majority National Assembly, free political prisoners, and proceed with a constitutionally allowed referendum on whether he should stay in power until the end of his term in 2019.
The Argentine-backed resolution offers "support" for the Rodriguez Zapatero mediation effort "with the goal of finding alternatives to favor political stability, social development and the economic recovery of the Bolivarian Republic of Venezuela."
Problem is, what's needed to solve Venezuela's rapidly deteriorating crisis is a much wider mediation commission that — unlike Rodriguez Zapatero's or UNASUR's — is not viewed as friendly to the Maduro regime. Under Almagro's proposal, supported by the Venezuelan opposition, there should be a combined mediation effort that would include the OAS, UNASUR and the United Nations, as well as former presidents such as Rodriguez Zapatero.
"For the past seventeen years, the so-called dialogues between the Venezuelan government and the opposition have been media shows that helped the regime buy time without changing anything," says Carlos Vecchio, a well-known Venezuelan opposition leader. "The only way to solve the crisis will be through international pressure for a real dialogue that produces results."
At the time of this writing, the Argentina-sponsored resolution was likely to be approved. The Obama administration and Venezuela's opposition were considering endorsing it, because the alternative — calling for an OAS vote on Almagro's proposal, and losing it — could give the Maduro regime a major propaganda victory.
My opinion: The Argentine-sponsored alternate resolution is a textbook case of political hypocrisy. You can't support democracy in Venezuela while delaying efforts to put greater international pressure on Venezuela's regime to stop acting as a dictatorship, and to begin to abide by democratic rules such as respecting the Venezuelan Congress' right to pass laws.
Venezuela needs OAS action, and now, to prevent a rapidly deteriorating humanitarian crisis. If member countries want to give a last chance to the Rodriguez Zapatero mediation commission, so be it, but they should set a deadline for it to produce results by June 13, when the OAS General Assembly meets in the Dominican Republic for its annual foreign ministers meeting.
By then, there should be strong regional backing for a more credible mediation commission in Venezuela. The previous ones — including that of UNASUR and the ongoing one led by Rodriguez Zapatero — have proved to be too tolerant of Maduro's systematic violation of the rule of law.
2. ARGENTINA BACKPEDALS ON GAS RATIONING MEASURES FOR INDUSTRY (Reuters News)
By Maximiliano Rizzi
June 1, 2016
Argentina will loosen gas consumption restrictions announced this week, the Energy Ministry said on Wednesday, a day after ordering industrial producers to reduce gas usage to zero to ensure supply for households.
A government committee had approved the measure on Tuesday as natural gas supply was hit by delays in the unloading of two ships carrying liquefied natural gas and by union conflicts at producers in the south of the country, which is entering winter.
On Wednesday the government energy committee backpedaled, saying in a statement that better weather and purchases of gas from Brazil and Uruguay, as well as advances in union negotiations, would allow industrial producers "minimum technical consumption."
Once gas acquisition and production are normalized, consumption could return to regular levels, the statement added.
The oil workers union that represents employees at private producers in the Tierra del Fuego region cut gas supply to the rest of the country on Wednesday in protest over raising utility charges.
A government plan to help battle the fiscal deficit by sharply increasing utility prices may be endangered after several judicial rulings that prevent providers from cutting off consumers who fail to pay their newly expensive bills.
3. ARGENTINA FACES GAS SUPPLY SHORTAGE AMID NEW STRIKE (Business News Americas)
1 June 2016
Hours after an agreement with oilfield workers to end a strike in Argentina's Chubut and Santa Cruz provinces, a new work stoppage has halted natural gas production and dispatch from southernmost Tierra del Fuego province.
The energy and mines ministry said in a statement Tuesday night that the latest strike, launched to protest residential gas rate increases approved by the government in April, has cut off the supply of 16Mm3/d to Argentina's natural gas pipeline network, including to capital Buenos Aires.
Natural gas regulator Enargas called on consumers from the industrial segment to reduce their gas consumption to zero, and for thermal power generators to limit their offtake to the lowest amount necessary to prevent widespread power outages.
The ministry said Argentina is importing 1,200MW of electric power from neighboring countries to prevent supply interruptions and that the government is negotiating at least 3Mm3/d of additional gas imports from Chile, which began supplying regasified LNG to Argentina in May.
The ministry said that if the unions did not call off the strike Wednesday, supply of compressed natural gas (CNG) would be shut off for the entire country.
Unfavorable weather conditions have also delayed the arrival of LNG cargoes to Argentina, the ministry said, further complicating matters.
Union leaders told state news service Télam that 1,500-2,000 workers would halt activity in the zone, including stopping production at a gas processing and dispatch plant owned by the local subsidiary of French oil major Total.
A nearby plant owned by state oil company YPF would not be affected, Télam said. However, employees of downstream firm Refinor joined the strike, amplifying the fuel supply interruption.
Télam said gas rates have increased 400-2,500% for residential consumers in the country's Patagonia region, which comprises Tierra del Fuego, Santa Cruz, Chubut, Río Negro, Neuquén and La Pampa provinces.
Energy and mining minister Juan José Aranguren announced on May 23 that rate increases would be capped at 400% for Patagonia consumers, a conciliatory measure that politicians from the affected provinces called insufficient.
4. ARGENTINA SAYS GAS SUPPLIES IMPROVE ON LOWER DEMAND, LNG CARGO (Platts Commodity News)
By Charles Newbery
1 June 2016
Buenos Aires (Platts)–1Jun2016/1127 pm EDT/327 GMT Argentina's energy ministry said Wednesday that the country's natural gas supplies were recovering from a shortage earlier in the day, as improved weather conditions allowed an LNG cargo to be unloaded and as factories and power plants reduced consumption.
"Gas supplies are tending toward normalization throughout the country," the ministry said in a statement.
On Tuesday, the department ordered industrial consumers to slash their gas consumption to zero after a storm delayed LNG deliveries and strike action disrupted the delivery of 16 million cu m/d of gas supplies from Tierra del Fuego, the southernmost province.
With calmer weather Wednesday, a vessel was able to start unloading an LNG cargo at a floating regasification terminal in Bahia Blanca, Buenos Aires province, the ministry said.
At the same time, the country imported 1,800 MW of power from Brazil and Uruguay, easing demand for gas for electricity generation. Power plants consume a quarter of the nation's 130 million-180 million cu m/d of gas during the colder months of May to September, according to Enargas, the national gas regulator.
With the improvement in supplies, the ministry said it would ease the restrictions on factories and power plants for consuming gas. Instead of cutting to zero as ordered Tuesday, these consumers can now reduce consumption to the "technical minimum" of their installations, it said.
"As the gas injection system normalizes, consumption will be liberated throughout the country," the ministry added.
Further buoying expectations for an improvement in gas supplies, the ministry said advances were made in ending the oil and gas workers' strike in Tierra del Fuego that started Tuesday.
Energy minister Juan Jose Aranguren and interior minister Rogelio Frigerio met Wednesday with governors of Tierra del Fuego and other provinces in the south to find a solution for a chief complaint of the strikers: high gas bills.
The national government raised the wellhead price of gas twofold this year, saddling consumers in Patagonia with up to 2,000% increases on their gas bills.
The ministry did not specify what advances were made to end the strike.
However, Chubut governor Mario Das Neves said after the meeting that one possibility is to exempt lower-income households and pensioners from the gas hikes, and reduce the increase on small and medium companies, shops and tourism businesses.
"A huge number of people won't have to pay the increase," Das Neves told the Argentine state newswire Telam.
Those that will have to pay will face 400% increases, less than the maximum of 2,000%, Telam reported, citing unnamed government sources.
"There were concrete advances," Rio Negro governor Alberto Weretilneck told Telam.
Argentina, which relies on gas to meet 50% of its energy needs, has seen an increase in shortages and a surge in imports over the past decade as gas production has dropped to 120 million cu m/d from a record 143 million cu m/d in 2004.
To turn around the decline and develop the country's huge tight and shale gas resources, the government of Mauricio Macri has raised wellhead prices to encourage investment since taking office in December. A wider aim is to reduce the country's gas imports, which have surged to 30 million cu m/d from zero in 2004, when the country was still a net gas exporter.
5. TALKS ONGOING IN MONSANTO, ARGENTINA GOV'T GMO SOY DISPUTE (Reuters News)
By Hugh Bronstein and Maximiliano Rizzi
1 June 2016
BUENOS AIRES, June 1 (Reuters) – Monsanto Co, eager to get royalties from growers in Argentina on genetically modified soybeans, said on Wednesday it was still trying to resolve a dispute with the government over inspections, while an agricultural ministry source said a deal may be reached in the coming days.
Monsanto and the government have been at loggerheads over the company's request that Argentine exporters inspect soybean shipments to ensure growers pay royalties. The country's government has decreed it must approve such inspections.
Monsanto, the world's largest seed company, then said it would suspend future soybean technologies in Argentina, a move that could limit output of the country's main cash crop.
"Monsanto and industry stakeholders continue to engage in positive dialogue with the government of Argentina," the company said in a statement from Buenos Aires, adding that the government should have "a predictable business environment that recognizes intellectual property protection."
A source at the Agricultural Ministry said there would likely be advances at the talks soon.
"Though there is an advanced dialogue and good will from both sides, we can't get ahead of ourselves. I think in the coming days there will be something concrete," the source said.
Argentina, the world's No. 1 exporter of soymeal livestock feed, relies heavily on Monsanto's genetic technology to produce soybeans.
During the negotiations the government has contended Monsanto has failed to submit a proposal for an inspection system. The company said it was waiting for the government to outline its inspection requirements.
Soy farming has spread rapidly across Argentina's Pampas agricultural belt over the last 20 years, thanks largely to the country's embrace of genetically modified seeds. The technology makes soy plants resistant to glyphosate herbicide, which kills most weeds that grow in Argentina.
Argentine growers do not yet have the company's new "Xtend" technology, aimed at increasing soy yields and controlling glyphosate-resistant broad leaf weeds.
Farmers have urged the government to make a deal with the company though they object to private exporters playing an enforcement role.
Monsanto has pressured shipping companies to notify it when crops grown with its technology are slated for export without documentation that farmers have paid royalties.
Argentina, the world's third biggest exporter of raw soybeans, is expected by the Buenos Aires Grains Exchange to harvest a 56-million-tonne crop this year. The estimate was cut from a previous forecast of 60 million tonnes due to floods that hit key farm areas in April.
Back to contents
6. MONSANTO SAID TO SEAL DEAL WITH ARGENTINA OVER GMO SOYBEAN TESTS (Bloomberg News)
By Pablo Gonzalez
June 2, 2016
* Seed producer gives government control over testing of cargoes
* Company has struggled to collect royalty payments from farmers
Monsanto Co. agreed to allow Argentina to help collect soybean royalty payments, according to two people with knowledge of the situation, a deal that may hasten the end of a lengthy dispute between the U.S. seed company and farmers in one of the world's biggest agricultural exporters.
St. Louis-based Monsanto also agreed to give the government full control of the testing of soybean cargoes, according to the people, who asked not be identified because the accord hasn't yet been signed. The Argentine Seed Institute, also known by its Spanish acronym Inase, will oversee the detection of crops grown illicitly from Monsanto's Intacta genetically modified soybean seeds, the people said.
The accord may lead to a cultural shift for farmers in the world's third-largest soybean exporter who generally avoid paying royalties and instead use GMO seeds saved from previous harvests or purchased from non-registered suppliers.
Monsanto said last month it was reviewing the future of its business in Argentina. That announcement followed a government resolution in April that gave it control of the soybean testing, a setback for the company, which had been funding the network of laboratories doing the work.
Test Results
Under the accord between Monsanto and the government, Inase will delegate testing to several grain exchanges, but mainly the Rosario Grain Exchange, the people said. The port city of Rosario is the departure point for about 85 percent of Argentine soybeans.
Among the details still to be discussed is how fast Monsanto will learn about test results showing Intacta seed was used without permission, the people said. Until now, the Monsanto-funded Rosario lab has sent positive tests to the company in real time.
"Monsanto remains committed to dialogue with the government in order to find a mutually agreeable solution," the company said Wednesday in an e-mailed statement. In a separate statement, the Agribusiness Ministry said it was cautious about providing more information and would say only that there's "goodwill from both parties to hammer out a deal."
With 72 percent of its current season soybean crop harvested, Argentina is expected to produce 56 million metric tons this season. The U.S. and Brazil are the world's largest growers of the crop.
Back to contents
7. COCA-COLA AGREES TO BUY UNILEVER'S ADES UNIT FOR $575 MILLION (Bloomberg News)
By Kevin Orland
June 1, 2016
Coca-Cola Co. and bottler Coca-Cola Femsa SAB agreed to buy Unilever's AdeS soy-based beverage business for about $575 million, expanding the beverage giant's sales of non-soda drinks and boosting its business in Latin America.
After the takeover is completed, AdeS will become part of the non-carbonated beverage platforms that Coca-Cola Femsa and Coca-Cola share in its franchise territories, the Atlanta- and Mexico City-based companies said in a statement Wednesday.
The acquisition gives Coca-Cola and its largest Latin American bottler a company that had about $284 million in sales last year. AdeS, which sells beverages that are a mix of fruit juice and soy, has a presence in Brazil, Mexico, Argentina, Uruguay, Paraguay, Bolivia, Chile and Colombia.
For Unilever, the sale is its latest move to shed assets in its embattled food business, where growth has slowed in recent years due to a lack of innovation and declining demand, prompting the sale of brands such as Slim-Fast and Ragu. About two-thirds of the company's food revenue come from mature markets such as the U.S.
Coca-Cola shares were little changed at $44.61 at 9:31 a.m. in New York. The shares had gained 3.8 percent this year through Tuesday.
Back to contents
8. ARGENTINA'S NEW REFORM-MINDED PRESIDENT IS FACING HIS FIRST BIG TEST (Fortune)
By Jonathan Gilbert
June 1, 2016
Mauricio Macri knew he'd soon face pushback against his market-oriented economic reforms.
When Argentine President Mauricio Macri took office in December, he knew it might not be long before he'd face pushback against his market-oriented economic reforms.
Less than six months into his presidency, that time has already arrived.
"He's in too much of a hurry," says Carlos Quiroga, 43, who with his wife runs a small drop-off laundry business in Buenos Aires.
Macri's center-right administration approached the sputtering economy like a mechanic restoring a beaten-up car. Policymakers moved to fix all of the problems at once, hoping this would quickly foster a sturdy business climate and bolster growth.
One of those problems was the budget deficit. In 2015, under the leftist government of Cristina Fernández de Kirchner, it was the widest in three decades: 5.4% of gross domestic product. To narrow the deficit, Macri has been cutting government spending, albeit gradually. In theory, this will rein in inflation, which—at around 40% following a December currency devaluation—could trigger instability and thwart business investment.
But although such reforms have been met by hosannas among foreign investors, they are inflicting short-term pain at home: stoking poverty, anger, and political opportunism.
Quiroga voted for Macri because he was tired of Fernández. But now he is questioning the new president's decision to cut energy and transport subsidies. Those subsidies were a burden on government finances but, since they've been cut, Quiroga's water and electricity bills have soared, raising costs even as he has been reluctant to bump up the price of the wash-and-dry service (about $4.70 per bundle) for fear of losing customers.
Meanwhile, with the Central Bank raising interest rates as high as 38% to increase peso savings and cut inflationary consumer spending, Quiroga complains there's no cheap credit to invest in his business.
"Yes, Macri inherited things in bad shape, but you can't reverse 12 years so quickly," Quiroga says, referring to the three consecutive terms that Fernández's party was in office. "With things as they are, it's hard to keep supporting him."
At first, Macri won the support of opposition Peronist lawmakers. Crucially, several weeks ago they backed his settlement of a years-long debt feud with New York hedge funds that had filed claims for billions of dollars in the wake of Argentina's 2001 sovereign default.
But the lawmakers now appear less pliant. This month they passed a law to prevent layoffs amid a wave of job cuts made as the economy contracts. Macri swiftly vetoed it, saying it discouraged business investment.
In another sign of frustration, influential labor union leaders bristling at Macri's economic policies also staged a big anti-government rally. And on Tuesday, official economic activity figures from April—which showed an unexpectedly steep 6.7% drop in industrial activity—appeared to sketch an ugly picture.
While Macri is far from a political crisis, he is governing under a dark cloud: no democratic non-Peronist leader has managed to complete his term since President Marcelo T. de Alvear in 1928.
Until recently, analysts say, Macri had been maneuvering skillfully to govern effectively.
But at a time when foreign leaders and financial markets still applaud him, the domestic situation is becoming more taut. His approval ratings dropped from 51% in March to 44% at the end of May, according to respected local polling company Management and Fit.
If his popularity drops too much, there is a danger Macri could cede to political pressure and ease off tackling the budget deficit (often called "slippage"). If he does this while continuing to tap global bond markets at high interest rates, Argentina could veer toward another default down the line, says Fernando H. Narvajas, an economist at FIEL, an Argentine policy research center.
"What I see internationally is a personality game," says María Victoria Murillo, an Argentine politics professor at Columbia University. "Perceiving a dreamlike time, they rally around. But domestically it's a different story; difficulties are starting to emerge."
American President Barack Obama praised Macri as "a man in a hurry" over economic reforms. Paul E. Singer, a billionaire hedge-fund manager involved in the debt feud, wrote a tribute to him in TIME magazine's list of the world's most influential people. And when Argentina sold foreign bonds recently for the first time in 15 years, it issued a developing-country record of $16.5 billion. With demand reaching four times that, there has also been room for provincial governments and businesses to begin to tap market enthusiasm.
Still, policymakers know Macri's political future largely depends on signs of a tangible economic recovery in the second half of the year.
"We are at our lowest point now," cabinet chief Marcos Peña recently told local radio, referring to a report by researchers at the Pontifical Catholic University of Argentina that showed poverty increasing sharply since Macri took office.
But, Peña insisted, "It's the path we have to follow to start growing again."
Growth was 2.1% in 2015, an improvement on the sluggishness of recent years, but economists say this was spurred by an unsustainable deluge of government spending before the elections.
To Macri's advantage, public patience should endure for a while longer, says Pablo Knopoff, a political strategist at the Isonomía consultancy in Buenos Aires.
"Macri anchored his expectations in the future," Knopoff says. "Argentines are concerned but optimistic that things will improve," he adds, explaining how widespread disillusionment with Fernández has given Macri extra time. As one of the keys to success, the economist Narvajas points to an amnesty bill announced last week. It is meant to entice Argentines to repatriate billions of dollars stashed overseas, which would boost the nation's finances and allow it to fund policies like higher pension payouts.
Macri may just be able to orchestrate an economic turnaround before there are heavy political and social repercussions, some economists predict.
Antonio Dip, a street-side flower seller in Buenos Aires, agrees.
"I have blind faith," says Dip, 82. "With Macri, Argentina is going to rise up."
Back to contents
9. BUY HEDGE FUNDS, BOLT FROM ARGENTINA? (Barrons)
By Dimitra DeFotis
June 1, 2016
In its global strategy recommendations for the second half of 2015, Wells Fargo recommends investors stick with hedge funds but avoid Argentina.
Wells Fargo's global alternative investment Strategist Justin S. Lenarcic suggests that qualified investors — hedge funds require high minimums and long lock-up times — use such funds as part of a broader overall portfolio strategy. Lenarcic notes that for years, hedge funds have not performed as well as traditional, long-only investments that have benefited from one of the longest bull markets in history:
"Seemingly forgotten is that hedge fund returns should be measured over a full market cycle and not on a calendar-year basis. … patience and a longer investment horizon are required as hedge-fund managers navigate a "new normal" environment characterized by episodic volatility and bouts of illiquidity. We continue to favor "BOLT" strategies that are balanced, opportunistic, have low net exposures and are tactical, which includes Long/Short Credit and Structured Credit, as well as Low-Net Equity."
A government photo shows Argentine President Mauricio Macri at an alternative energy presentation.Argentinian Presidency, AFP/Getty Images
But Wells Fargo's Peter Donisanu, a global research analyst, says that Argentina is not the place to poke around. Under new President Mauricio Macri, the economy is expected to contract – the result of ultimately market-friendly reforms — by roughly 1% this year, and the pain may get worse. The Global X MSCI Argentina exchange-traded fund (ARGT) is up 14% this year, while the iShares MSCI Frontier 100 ETF (FM) is up just more than 2% this year and the iShares MSCI Emerging Markets ETF (EEM) is up 2.7%.
Donisanu advises investors to "avoid exposure to Argentina in the near term while taking a wait-and-see approach for potential long-term opportunities." He adds:
" … Some of the market-positive reforms introduced by the country's new president, including the currency devaluation in December, brought with them a sharp increase in consumer price inflation—with the City of Buenos Aires reporting 40 percent year-over-year inflation in April. As a result of the accelerated pace of inflation, the Central Bank of Argentina … raised its policy rate to 30 percent in April from 18 percent in February. … commodity prices remain in a longer-term secular decline which could weigh on Argentina's agricultural sector in the coming year as farmers plant more crops— anticipating rising prices. Exports account for roughly 30 percent of Argentina's economy, with agriculture being the largest exported good. Brazil is Argentina's largest trading partner, and the political and economic conditions in that country are likely to weigh negatively on Argentine trade and activity in the broader economy.
… We suggest that investors avoid individual country exposure to Argentina in the near term given the aforementioned economic headwinds. We expect longer-term potential opportunities to present themselves as the positive effects of central bank and government reforms materialize in the form of lower inflation levels, balanced government spending and sustainable economic growth … Despite the positive sentiment surrounding Argentina's recent international bond-market issuance, we expect stresses in the country's financial sector and high inflation level to weigh on the earnings power underpinning both bonds and stocks. Investors also should keep in mind that Argentina's sovereign-bond rating remains speculative according to Moody's, Fitch and S&P even when the recent upgrades in April and May are incorporated …"
Among individual Argentine stocks, the best performing, U.S.-traded stocks this year: Nortel Inversora (NTL) is up 83%; Arcos Dorados Holdings (ARCO), 40%; YPF (YPF), 31%; IRSA Inversiones y Representaciones (IRS), 21%; and MercadoLibre (MELI), 19%. Banks have been mixed: BBVA Banco Frances (BFR) is down 1.5% this year, while Grupo Financiero Galicia (GGAL) is up 4%, and Banco Macro (BMA) is up 6.6%.
FRIDAY 6/3
1. EDITORIAL-OPINION: A COURAGEOUS VOICE ON VENEZUELA (The Washington Post)
2. POVERTY IN ARGENTINA: GUTTED COMMUNITY (The Economist)
3. EXXON CEO SAYS ARGENTINA SHALE INVESTMENT MAY EXCEED $10 BILLION (Bloomberg News)
4. DESPITE PRO-BUSINESS REFORMS, ARGENTINA'S FACTORY OWNERS STRUGGLE (Voice of America)
5. AM LAW 100 DUO ADVISE ON FIRST ARGENTINE IPO IN SIX YEARS (Miami Daily Business Review)
6. ARGENTINA WATCH: IFC RENEWABLE FINANCING, SHOVEL-READY WIND FARMS, TRANSMISSION TENDER (Business News Americas)
1. EDITORIAL-OPINION: A COURAGEOUS VOICE ON VENEZUELA (The Washington Post)
By The Editorial Board
3 June 2016
AS VENEZUELA has plunged into economic chaos and a humanitarian crisis, its hemispheric neighbors, including the United States, have mostly looked the other way. Fecklessly, they propose "dialogue" between the regime of President Nicolà¡s Maduro and the opposition, ignoring the government's blatant violations of constitutional and democratic order and its longstanding refusal to negotiate seriously.
The remarkable exception to this dismal diplomatic record has been Luis Almagro, the secretary general of the Organization of American States. Since taking office a year ago, the former Uruguayan foreign minister has revived the once-moribund regional organization by becoming an eloquent advocate for democracy and human rights. This week Mr. Almagro stunned his timid fellow statesmen by proposing that the OAS formally review Venezuela's adherence to the Inter-American Democratic Charter, a 2001 treaty that binds OAS members to democratic norms and provides for collective action when they are violated.
In a 132-page letter to the OAS permanent council, Mr. Almagro documented the Maduro government's sweeping breaches of the rule of law and the mounting humanitarian crisis caused by food, medicine and power shortages. He called for the immediate release of political prisoners and steps to repair institutions and combat corruption. Most important, he stressed that a recall referendum on Mr. Maduro, sought by the opposition and provided for in the constitution, should be held this year. "On that depends democracy in Venezuela," the report concluded.
The good news is that Mr. Almagro's bold action prompted the OAS permanent council to convene its first meeting on Venezuela in two years – despite the buffoonish posturing of Mr. Maduro, who called a rally in Caracas to tell Mr. Almagro to "stuff" his report. The bad news is that cowardice and crass political calculations by council members prompted it to issue another anodyne appeal for "dialogue."
The non-response was orchestrated by Argentina, even though its new president, Mauricio Macri, said after his election in November that he would support collective action on Venezuela's violation of democratic norms. That was then: Mr. Macri's foreign minister now is hoping to be elected the next U.N. secretary general, and so he is anxious to appease Venezuela and its dwindling band of allies.
At least Buenos Aires has an excuse. The Obama administration has inexplicably joined in the empty "dialogue" chorus while failing to take a position on Mr. Almagro's letter. Secretary of State John F. Kerry took time from his fruitless pursuit of negotiations in Syria last weekend to place a supportive call to former Spanish prime minister José Luis Rodriguez Zapatero, who heads the trio of left-leaning statesmen who have tried to broker Venezuelan talks. They have achieved nothing, for the same reason Mr. Kerry has failed in Syria: They lack leverage over a criminal and uncompromising regime.
In fact, as Mr. Almagro tartly noted in his letter, political dialogue is useless without "a commitment a priori to democracy and the rule of law." The solution in Venezuela, he rightly argued, is not talks but votes. "When the political system of a country is extremely polarized, the only solution can come from the decision of the sovereign," says his report.
On Thursday, Mr. Almagro reiterated his call for a review of Venezuela under the Democratic Charter. He's calculating that greater diplomatic pressure could force the Maduro regime to schedule a referendum. Mr. Almagro ought to have the support of the United States.
Back to contents
2. POVERTY IN ARGENTINA: GUTTED COMMUNITY (The Economist)
4 June 2016
Scandal strikes a famous social project
EL CANTRI is a cheeky name for a housing project built for the poorest people in Jujuy, one of Argentina's poorest provinces. The message is that its 15,000 inhabitants are no less entitled to comfort than residents of a posh gated community–known in Argentina as "countries". A playground is equipped with dinosaur-shaped slides; a vast aquatic park has giant plastic sea lions. There is a full-scale replica of the Kalasasaya, a pre-Columbian temple, constructed out of breeze blocks. El Cantri has two factories, a clinic and a sports centre. On top of each house is a water tank stencilled with images of such popular heroes as Che Guevara and Eva Perón.
The settlement was built by Túpac Amaru, a social movement that for 17 years has provided housing and other services to 70,000 poor jujeños. The group thrived during the dozen years when Argentina was governed by the populist Kirchners: the late Néstor Kirchner and then his wife, Cristina Fernández de Kirchner. It was the third-largest employer in a remote agricultural province, in which 45% of the land is owned by just five companies, according to Carlos Aramayo at the National University of Jujuy. Túpac Amaru's firebrand leader, Milagro Sala, is a celebrity. Pope Francis invited her to the Vatican in 2014.
Argentina's elections last October brought about a change of regime, and a dramatic reversal of fortunes for Ms Sala and her movement. Gerardo Morales became the first non-Peronist governor of Jujuy in more than 30 years. He is an ally of the new centre-right president, Mauricio Macri, who is more likely to bet on free enterprise and new infrastructure than on left-wing social movements.
A clash was not long in coming. On December 10th, the day he took office, Mr Morales said that all co-operatives must register with the government in order to continue receiving money. Four days later Ms Sala and her supporters set up camp outside his office, demanding a meeting. Police arrested her on January 16th, saying she had incited violence. Since then the charges have mounted up: she is accused of fraud, extortion and conspiracy. Judges have ordered her to stay in prison while prosecutors investigate. It is not certain that the Túpac Amaru movement, named after the leader of an uprising against the Spanish in 1780, will survive the onslaught.
Joaquín Millón, Jujuy's new anti-corruption investigator, alleges that more than half of the 1.3 billion pesos ($90m) funnelled by the national planning ministry through the provincial government and municipal authorities to Túpac Amaru from 2004 to 2015 has gone missing. The co-operative movement was contracted to build some 8,500 houses; after touring more than 30 projects, Mr Millón concluded that 2,300 were either incomplete or non-existent. Residents of El Cantri told Jujuy's prosecutor, Mariano Miranda, that the movement illegally withheld title deeds to their homes and threatened to evict them if they did not support Ms Sala. She denies all the allegations.
The scandal raises awkward questions for Ms Fernández. Allegations have emerged linking her family to the scandal in Jujuy. In April a provincial deputy who is a former Túpac Amaru member told a judge that Ms Sala had delivered suitcases of cash to Ms Fernández's son, Máximo Kirchner, in the Quinta de Olivos, the president's official residence. They both deny it.
Human-rights groups have leapt to Ms Sala's defence. Amnesty International criticised her initial arrest, saying she had been "criminalised for peacefully exercising her rights to freedom of expression and protest". In March the UN's Working Group on Arbitrary Detention urged Argentina's government to justify her detention in writing. Mr Miranda bristles at the criticism. "They say that she's a political prisoner, but she's guaranteed due process," he fumes. "Amnesty International hasn't tried living near Milagro Sala."
The beneficiaries of her work are beginning to lose faith. El Cantri's pastel-painted terraced houses are showing signs of neglect. The clothing factory, opened in 2008 by Ms Fernández, supposedly employs 146 people, but just a handful could be seen during a recent tour. The water park, the community's hub, has been drained. Since Túpac Amaru's refusal to register, so too have its coffers. "Ninety percent of people here are against Milagro Sala," says a man who lives close to El Cantri. "But that doesn't mean they oppose Túpac Amaru."
If the movement fails, Jujuy will need something to replace it. More than half of jujeños are poor and jobs are scarce. At three o'clock one recent afternoon the benefits queue at San Salvador de Jujuy's post office stretched around the block. The last passenger train to Buenos Aires departed in 1993. Jujuy is among the ten provinces that are to benefit from Plan Belgrano, a scheme promoted by Mr Macri to reduce poverty, encourage enterprise and improve infrastructure in the north. "For decades Argentina turned its back on the north," declared the president during a visit to Jujuy on May 16th. He pointedly promised to back projects "that aren't synonymous with corruption".
For residents of El Cantri, such schemes mean little compared with the tangible reality of their imperilled community. Daniela Calderón, a teacher at the newly opened primary school, bursts into tears as she watches her pupils playing happily in the playground. "They're gradually dismembering our organisation," she laments. "But we'll be back, stronger." Given Túpac Amaru's monumental problems, that may prove a forlorn hope.
Back to contents
3. EXXON CEO SAYS ARGENTINA SHALE INVESTMENT MAY EXCEED $10 BILLION (Bloomberg News)
By Pablo Rosendo Gonzalez and Joe Carroll
June 2, 2016
* Plan for Vaca Muerta full development would span 20-30 years
* Co. will start pilot project in the coming months: Tillerson
Exxon Mobil Corp. may invest more than $10 billion in Argentina's Vaca Muerta shale formation in the next decades, Chairman and Chief Executive Officer Rex Tillerson said Thursday.
The oil giant has so far invested $200 million in the world's second largest shale gas deposit, Tillerson said after meeting with Argentine President Mauricio Macri in Buenos Aires. Exxon has received approval to invest $250 million more for a pilot project in the coming months.
If the pilot project is successful, the company will start full development during a period of 20 to 30 years that could involve additional investment "that would be well in excess of $10 billion," he said.
For Tillerson, Argentina's vast Vaca Muerta shale region represents an opportunity to reverse production losses and add reserves after a $35 billion wrong-way bet on U.S. natural gas and a Russian exploration venture that was derailed by international sanctions. Exxon, the world's largest oil explorer by market value, has designated Vaca Muerta as one of nine "key activity" areas in the Western Hemisphere and one of just four in South America, according to company data.
New Government
Macri has been courting international corporations from Total SA to Dow Chemical Co. to Coca-Cola Co. to invest in Argentina since taking office in December. Exxon, whose annual sales dwarf the economic output of all but about 45 of the world's nations, is building a plant to strip impurities out of natural gas as well as a pipeline network to handle the output from its Vaca Muerta wells.
"I am very encouraged by the changes that have occurred here in Argentina, with the change in government," Tillerson said, according to a statement from the Argentine government.
Exxon's worldwide oil and gas output is lower than it was when Tillerson began his tenure as CEO a decade ago.
Last year, the company that traces its roots to the 1880s and John D. Rockefeller's Standard Oil Trust failed to replace all the crude and gas it pumped with new discoveries for the first time in 22 years. In April, S&P Global Ratings stripped Exxon of the gold-plated credit rating it had held since the Great Depression.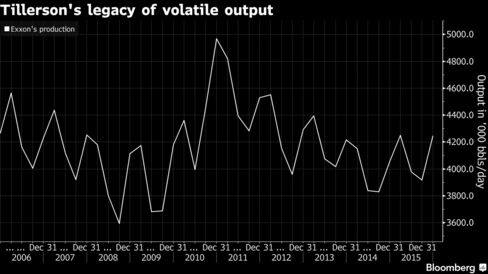 Tillerson will reach Exxon's mandatory retirement age of 65 in March. In a May 25 meeting with reporters after the company's annual meeting in Dallas, he declined to say whether he would seek an extension of his tenure from the board.
Vaca Muerta, Spanish for Dead Cow, is one of the world's top shale plays, covering an area the size of Belgium and considered key to restoring energy self-sufficiency in Argentina.
Back to contents
4. DESPITE PRO-BUSINESS REFORMS, ARGENTINA'S FACTORY OWNERS STRUGGLE (Voice of America)
June 2, 2016
BUENOS AIRES— Since taking office in December, President Mauricio Macri has quickly ticked off a long-held wish-list of Argentina's manufacturers – lifting tough capital controls, easing import restrictions and freeing up access to dollars.
But his policies have yet to lead to a recovery in manufacturing. Initial optimism over the new business-friendly government has met the tough realities of stubbornly high inflation, an economy stumbling towards recession and job losses.
"We were selling around 28,000 pairs [of shoes] per month and then in October last year it suddenly dropped to 18,000. We thought it would only last a few months, but the situation still hasn't changed," said Jorge Boris, vice president and partner at security footwear maker Boris Hnos, which makes steel-toe shoes used in construction and other industries.
The shoemaker, which employs around 70 workers on the outskirts of Buenos Aires, is not alone. Industrial output contracted a sharper-than-expected 6.7 percent in April from a year earlier, the newly revamped Indec statistics agency said this week.
Boosting factory output and turning around Argentina's economic fortunes are key to Macri's political fortunes.
He has promised to reverse years of protectionist economic policies under his leftist predecessor Cristina Fernandez but he could face labor unrest and an aggressive opposition in Congress and on the streets if he cannot quickly deliver growth.
"Up until now we haven't seen a change with this government … The economic situation in the country is bad. People have less purchasing power and companies are also doing poorly," said Boris.
Macri's policies have been hailed by investors as a strong start to opening up the economy, but they have also swelled the ranks of the poor as a currency devaluation sparked a sharp hike in inflation and the government hiked utility rates and cut generous subsidies for gas and water.
At least, manufacturers say, they can finally import what they need. Under Fernandez, cumbersome quotas hampered the import of key components and disrupted factory production lines.
"As of December, we haven't had any problems with importing finished cars or auto parts," said an executive at Argentina's industry automobile association, who asked not to be named.
But that is of limited use if there is little demand. Added to the economic woes at home is a steep recession in top trade partner Brazil, where nearly half of Argentina's manufactured goods are shipped.
"The problem is no longer about access to dollars or a simplified import regime for auto parts, it's a question of activity and of where to sell what we produce," said the industry executive.
Argentina's vehicle production in the first quarter of 2016 dropped 18 percent on the year.
Argentina's auto makers have responded by looking to new markets, such as Colombia. But half of Argentine-made cars are shipped to Brazil so new markets will only partially compensate for the shortfall.
Light at End of Tunnel
Macri promises that Argentina's return to global debt markets after it paid off 'holdout' creditors, 14 years after a massive sovereign debt default that triggered a mass exit of investors and a wave of litigation, will help draw a wave of foreign investment.
And many business owners remain positive on the long term, saying Macri's policies have brought greater transparency for investment decisions.
"The private sector is now talking to the public sector and that gives you predictability … it allows you to plan out the purchases you're going to make in far-away markets," said Ruben Oscar Garcia, secretary of import industry group Cira.
Small- and medium-sized companies that make up an important part of the manufacturing sector rely on "expectations and gut feeling" when making investment decisions, said Jorge Gottert, president of manufacturing industry group Carmahe.
"And there has been a radical change in that sense … we're convinced that the measures this government is taking are correct."
Gottert said he expects a manufacturing recovery to begin in the second half of this year and a surge in 2017.
Another Macri business-friendly move was to cut the tax on shipments of soybeans, Argentina's main cash crop, from 35 percent to 30 percent days after assuming power, while scrapping export taxes on corn and wheat. He plans further cuts.
As a result, increased activity in the grains sector during the second half of the year should prompt a ripple effect in the economy, feeding into manufacturing, said Marcelo Quistorp, president of Tauro, which manufactures welding equipment in the grains export hub Rosario.
"Right now we're 20 percent below where we'd like to be production wise … but we're hopeful this is going to take off.
We can't get rid of our workers because we risk having to train new ones when it does," he said.
But not everyone is convinced the economy will turn around this year.
"Macri is doing a lot of good things, and it's right to be optimistic about the medium term prospects … but the more painful cuts to social welfare spending, which will be needed to bring the fiscal deficit down, are yet to be implemented," said Edward Glossop, emerging markets economist at Capital Economics.
"The second half of the year if anything we would expect to be even weaker than the first half of the year, not stronger," he added.
Back to contents
5. AM LAW 100 DUO ADVISE ON FIRST ARGENTINE IPO IN SIX YEARS (Miami Daily Business Review)
By Jennifer Henderson
2 June 2016
A month after a settlement smoothed the way for Argentina's return to the global capital markets, Cleary Gottlieb Steen & Hamilton and Davis Polk & Wardwell led the way on an initial public offering by a Buenos Aires-based bank with more than $2 billion in assets.
Grupo Supervielle SA raised $280.5 million through a public listing that closed last week, making it the first IPO by an Argentine company since 2010, according to Reuters and the Financial Times.
Cleary Gottlieb, which opened a Buenos Aires office in 2009 amid its long-running role representing Argentina in litigation with hedge fund creditors, and local shop Errecondo, González & Funes represented Grupo Supervielle. A securities filing by Grupo Supervielle shows that those firms incurred roughly $1.49 million in legal fees and expenses in handling its IPO.
Davis Polk capital markets partner Nicholas Kronfeld, whose Latin American transactional prowess saw the American Lawyer name him one of its Dealmakers of the Year in 2013, said that his firm picked up the work advising underwriters for the IPO by familyowned Grupo Supervielle.
"The main legal issue was reconciling Argentine law and practice for an IPO with an IPO in the U.S.," Kronfeld said. "This was the first transaction of its kind in a long time, so there was no playbook. We had to figure it out and make it work."
Kronfeld worked with Davis Polk tax partner Kathleen Ferrell, corporate counsel Marcie Goldstein and associates Pedro Bermeo, Catherine Chu and Stephanie Rohlfs in advising Grupo Supervielle's underwriters, led by Bank of America/Merrill Lynch and Morgan Stanley, a role that saw the Am Law 100 firm partner with Argentine shop Bruchou, Fernández Madero & Lombardi, which had a role in brokering the country's peace with bondholders in April.
Bruchou Fernández also worked with Shearman & Sterling in advising underwriters that same month on a $16.5 billion bond offering that marked the South American nation's return to the global capital markets after a 15-year hiatus, one brought about by Argentina's 2001 default on $80 billion in sovereign debt. The country defaulted for a second time in 2014.
Cleary Gottlieb corporate partner Andrés de la Cruz in Buenos Aires took the lead for Argentina on its recent bond offering, according to previous reports, working with local firm Errecondo González. De la Cruz also advised Grupo Supervielle on its IPO, one he said in an email could be a sign that "Argentine issuers are back," along with counsel Emilio Minvielle, associate Kevin Hess and international lawyer Mariano Sierra. Grupo Supervielle's flotation comes months after Argentina elected a new leader in President Mauricio Macri, who took office in December and vowed to turn around the nation's economy and end its fight with so-called vulture investors. Macri, whose name surfaced in the Panama Papers leaks, also recently agreed to repatriate $1.3 million in personal savings from the Bahamas and invest them in Argentina treasury bonds.
Jennifer Henderson reports for the American Lawyer, an ALM affiliate of the Daily Business Review.
6. ARGENTINA WATCH: IFC RENEWABLE FINANCING, SHOVEL-READY WIND FARMS, TRANSMISSION TENDER (Business News Americas)
2 June 2016
The International Finance Corporation (IFC) will provide US$130mn to Banco Galicia, in part to finance renewable energy projects in Argentina.
"While still in its early days, sustainable energy financing has significant potential in Argentina," the IFC said in a statement, citing market-friendly reforms undertaken by President Mauricio Macri's government.
The package includes a five-year tranche to expand long-term access to financing for SMEs, mainly in the agribusiness sector, and a seven-year tranche to foster investments in clean energy sources "including solar, wind, biomass and geothermal … as well as energy efficiency and water efficiency projects [to] promote better use of resources and reduction of greenhouse gas emissions compared to traditional sources," said the IFC, which is the private sector arm of the World Bank.
WIND FARMS
In related news, Argentine energy trading firm Saesa provided details of 15 ready-to-build wind farms totaling 879MW that it has identified in the country.
In addition to a government tender for 1GW of new renewable capacity, Saesa has launched an open season call designed to help large energy consumers obtain competitive PPAs with renewable producers.
The wind projects are listed below:
NAME: Arauco
DEVELOPER: PE Arauco Sapem (joint venture, majority state-owned)
PROVINCE: La Rioja
LOCALITY: Valle de la Puerta
INSTALLED CAPACITY: 50MW
***
NAME: Pampa del Castillo
DEVELOPER: Aires Renewables
PROVINCE: Chubut
LOCALITY: Pampa del Castillo
INSTALLED CAPACITY: 80MW
***
NAME: Malespina
DEVELOPER: IMPSA
PROVINCE: Chubut
LOCALITY: Malespina
INSTALLED CAPACITY: 50MW
***
NAME: Loma Blanca (multi-phase)
DEVELOPER: Isolux Corsan
PROVINCE: Chubut
LOCALITY: Trelew
INSTALLED CAPACITY: 50-150MW
***
NAME: Puerto Madryn (multi-phase)
DEVELOPER: Engasud
PROVINCE: Chubut
LOCALITY: Puerto Madryn
INSTALLED CAPACITY: 50-150MW
***
NAME: Vientos del Secano
DEVELOPER: ABO Wind
PROVINCE: Buenos Aires
LOCALITY: Buratovich
INSTALLED CAPACITY: 50MW
***
NAME: Las Armas
DEVELOPER: ABO Wind
PROVINCE: Buenos Aires
LOCALITY: Las Armas
INSTALLED CAPACITY: 50MW
Responder Responder a todos Reenviar Más