FRIDAY
1. THE OPPENHEIMER REPORT: A LATIN AMERICAN WOMAN FOR U.N. SECRETARY GENERAL? (The Miami Herald)
2. ARGENTINA SET TO TUMBLE 22 PLACES ON GLOBAL WEALTH LIST (Financial Times)
3. ANGLO-ARGENTINE RELATIONS, ENDING ESTRANGEMENT (The Economist)
4. ARGENTINA TO BOOST CRUDE OIL OUTPUT TO 653,000 BPD BY 2025 – OFFICIAL (Reuters News)
5. ARGENTINA CENTRAL BANK HIKES RESERVE REQUIREMENTS TO CUT INFLATION (Reuters News)
6. ARGENTINA RAISES RESERVE REQUIREMENTS IN INFLATION BATTLE (Bloomberg News)
7. ARGENTINA CREDIT-DEFAULT SWAPS RETURN FOLLOWING RECORD BOND SALE (Bloomberg News)
1. THE OPPENHEIMER REPORT: A LATIN AMERICAN WOMAN FOR U.N. SECRETARY GENERAL? (The Miami Herald)
By Andrés Oppenheimer
27 May 2016
When Argentine President Mauricio Macri recently blessed his foreign minister Susana Malcorra's candidacy for secretary general of the United Nations, the joke in Argentina was that the country already has a Pope (Francis) and the world's best soccer player (Lionel Messi) so it was only natural that it should seek the top U.N. job.
But judging from what Malcorra told me in an interview earlier this week, her candidacy for the top U.S. job is a serious matter.
It means that a highly qualified and well liked Latin American woman will join more than half a dozen other candidates for the U.N. job scheduled to be left vacant by Ban Ki-Moon at the end of the year. But it also raises possible conflict-of-interest questions regarding Malcorra's stands on the Venezuelan crisis at a time when she needs Venezuela's support to get the U.N. job.
Granted, right now Malcorra is not a front-runner for the job because, under the U.N. practice of granting the secretary general's position to every region of the world on a rotating basis, it's Eastern Europe's turn to occupy the top U.N. position.
Malcorra's candidacy would have a chance if Eastern European countries can't reach a consensus to propose a candidate from their own region, diplomats say. Latin America is one of the few regions that has had only one U.N. secretary general, Peru's Javier Perez de Cuellar, in the 1980s.
Malcorra has great credentials for the top U.N. job: An electrical engineer by training, she worked for many years as an IBM executive in Argentina, then joined the United Nations 12 years ago and became Ban Ki-Moon's chief of staff in 2008. She was appointed Argentina's foreign minister in December.
But critics say Malcorra has a conflict of interest in her current U.N. campaign, because she needs the support of Venezuela — a member of the U.N. Security Council — at a time when Argentina is a key player in the Organization of American States' discussions to press the Venezuelan regime to comply with regional democratic agreements.
Human Rights Watch director Jose Miguel Vivanco has said that Malcorra's participation in a recent OAS debate about Venezuela was "very disappointing." Others say she has softened her stance because she needs Venezuela's support at the U.N. Security Council.
Asked about that criticism, Malcorra told me: "I continue to have a very firm position" on Venezuela. She added: "We do not think that Venezuela's crisis can be solved without the two sides [the government and the opposition] sitting at the table and finding a common way out."
I asked her whether she supports the Venezuelan opposition's plan to convene a recall referendum to oust President Nicolás Maduro, and whether she will back the opposition's petition that the OAS apply its democratic charter on Venezuela, a measure that could lead to Venezuela's suspension from the organization.
"On the recall referendum, it's part of the democratic instruments that are part of the Venezuelan Constitution," she said. "So we think that this process must go forward, with all guarantees provided for by the [Venezuelan] institutions."
As for the OAS applying its democratic charter on the Venezuelan regime, Malcorra said the focus right now should be on the recall referendum. "We believe that the OAS Democratic Charter is an instrument that should be used if there are certain conditions, and from our perspective, these conditions are not there," she said.
Asked whether she shouldn't step aside temporarily as foreign minister while she campaigns for the U.N. job, Malcorra said her rivals have not taken a leave from their respective jobs either.
My opinion: Malcorra would make a superb U.N. secretary general, but it's hard to believe that she can follow Argentine President Marci's campaign vows to support democracy in Venezuela while she seeks the support of the Venezuelan regime and its allies for her U.N. candidacy.
Malcorra is right in pointing out that other candidates have not taken a leave of absence, and that it would be unfair to ask that only she do that. But perhaps all U.N. candidates should step aside, because there are legitimate questions on whether they can conduct their countries' foreign affairs or U.N. responsibilities fairly without trying to woo the countries whose votes they need to win.
2, ARGENTINA SET TO TUMBLE 22 PLACES ON GLOBAL WEALTH LIST (Financial Times)
By Steve Johnson
May 27, 2016
Revision of figures from Fernández administration suggests 40% chasm in GDP per head
Commiserations Argentines. You are now poorer than the Chinese, Bulgarians, Azerbaijanis, Belarusians, Turkmen, Mexicans, Malaysians and Gabonese, not to mention your beloved neighbours in Brazil.
All is not lost, though. You are still a smidgen better off than those in Botswana and war-torn Libya.
Argentina's statistics agency, Indec, will next month publish revised gross domestic product data as a part of an overhaul of official figures produced under the reign of Cristina Fernández de Kirchner, the former president, which are widely perceived as cooked.
The revised data will tell Argentines how wealthy their country really is, rather than how rich the previous regime, in power for eight years until December, claimed it was.
If a joint project between Harvard University and the University of Buenos Aires is correct, the difference is large.
"We are less rich than the former administration tried to show," says Ariel Coremberg, director of the project, known as Arklems+Land, and an adviser to the new government of president Mauricio Macri. "Since 2007, official economic statistics in Argentina, particularly on consumer inflation and GDP, have been subject to political manipulation."
Exactly how bad the news is depends on one's preferred measure. Based on GDP at constant prices, the Arklems team calculates that output was about 12.5 per cent lower in 2015 than the official data suggest, as the first chart shows.
This would reduce GDP from $586bn to around $513bn, based on data from the International Monetary Fund.
However, the previous government did not just manipulate the raw GDP data itself, but also the exchange rate it was measured at, preferring the official pegged rate (9.8 pesos to the dollar in 2015) to the real black-market foreign exchange rate (14.5 just before the currency was freed by Mr Macri in December. A dollar buys 14 pesos now).
Using the real exchange rate, Mr Coremberg and his team calculate that Argentina's GDP per capita in 2014 was just $7,399, rather than the $12,510 the World Bank says it was that year, based on official Argentine data, a gulf of 40.9 per cent.
http://im.ft-static.com/content/images/a9cbd752-235a-11e6-9d4d-c11776a5124d.img
This would be enough to send the country spiralling from 56th in the global rankings to 78th, placing it below the countries mentioned above as well as the likes of Suriname, St Lucia and Grenada and the global average GDP per head of $10,739.
Worse still, by this measure Argentines are now poorer than they were in 1998, before the start of the country's economic downturn that led to its 2001 default, when income per head was $8,303, as the second chart shows.
Factoring in Arklem's data also throws up a number of other nasty surprises.
According to Indec, the country's poverty rate fell seamlessly from 50.9 per cent in 2003 to 29.2 per cent in 2006 and 4.7 per cent by 2013.
The Arklems data suggest the initial stage of the decline, to 29.2 per cent in 2006, is correct, but that the real poverty rate has flatlined since then, sitting at 29 per cent as of 2015.
"The real poverty rate is nearly 30 per cent. The official figures show 4.7 per cent, nearly the level of Sweden and Norway," says Mr Coremberg.
http://im.ft-static.com/content/images/a7d683d4-235a-11e6-9d4d-c11776a5124d.img
The idea fostered by the Fernández government that Argentina was Latin America's "growth champion", expanding at Chinese-style rates, also looks a little hollow.
The Indec figures suggest Argentina's GDP expanded at a compound rate of 99.1 per cent between 2002 and 2012, the fastest rate in Latin America, ahead of Peru at 87.2 per cent and a continental average of 46 per cent.
To be fair the Arklems database does still show decent growth of 71.1 per cent over this period, but that is only enough to place the country third in the region, behind Peru and Uruguay.
Over the period 1998 to 2012, though, the picture looks very different. Rather than expanding at a compound rate of 62.5 per cent, Arklems thinks Argentina really grew by just 42.1 per cent, placing it rock bottom in Latin America, as the final chart shows.
"Argentina had an impressive recovery from 1998 to 2002 but when you compare peak 2015 to 1998, the last maximum, it grew at only 2 per cent a year instead of Chinese rates of 8 per cent," says Mr Coremberg.
"Official GDP growth between 2007 and 2015 was nearly 30 per cent [over the eight-year period], but following traditional methods and sources it was 15 per cent.
http://im.ft-static.com/content/images/a5e839f0-235a-11e6-9d4d-c11776a5124d.img
"The last decade did not show the highest GDP growth in the country's history. Argentina was not Latin America's growth champion," adds Mr Coremberg.
According to Arklems, the prime driver of the overstated GDP data was not the country's widely derided official inflation data, even though Arklems calculates that inflation between December 2006 and December 2015 was 506 per cent, somewhat higher than Indec's 133 per cent figure.
Instead, the Arklems team suggest that official growth figures were calculated using erroneous volume figures for indicators such as manufacturing production and trade flows.
"The difference [between the data sets] is not a random event. It's due to manipulation in every industry," Mr Coremberg says.
3. ANGLO-ARGENTINE RELATIONS, ENDING ESTRANGEMENT (The Economist)
May 28th 2016
A new start for an old relationship

Don't chime for me, Argentina
WITH its green bell tower and royal coat of arms, the Torre Monumental in Buenos Aires would not look out of place in a British market town. The 60-metre (200-foot) Palladian clock tower was a gift from the city's British community to mark the centenary of Argentina's 1810 revolution (though it was completed in 1916). On May 24th this year around 200 people gathered to commemorate its centenary.
The celebration comes at a rare moment of warmth in Anglo-Argentine relations. Argentina's newish president, Mauricio Macri, has reasserted his country's claim to the Falkland Islands (known in Argentina as the Malvinas), which belong to Britain. But, unlike his pugilistic predecessor, Cristina Fernández de Kirchner, he wants to co-operate with Britain on such areas as trade and fighting drug-trafficking. Argentina's foreign minister, Susana Malcorra, met her counterpart in London on May 12th, the first such meeting since 2002. Flights to the Falklands may resume after a 13-year interruption.
A hundred years ago Britain and Argentina were complementary economic superpowers. Britain built Argentina's railway, which helped make Argentina one of the world's ten richest countries, and bought 40% of its exports, mainly beef and grain. In 1914 Harrods, a fancy department store, opened its first overseas branch in Buenos Aires.
Signs of this former commercial camaraderie are everywhere. Red post boxes appear on street corners. Football, the national sport, is an English invention, as are some Argentine teams. The original Newell's Old Boys, Lionel Messi's first club, were the pupils of a Kent-born teacher. Posh porteños (Buenos Aires residents) play cricket at the Hurlingham Club.
The Falklands war, triggered by Argentina's invasion of the islands in 1982, ended the bonhomie. Signs of Britishness were expunged. Bar Británico, once frequented by British railway workers, changed its sign to read Bar tánico. The Torre de los Ingleses became the Torre Monumental.
Diplomatic relations were restored in 1989 but Ms Fernández and her late husband, Néstor Kirchner, who was president before her, interrupted the rapprochement. In 2012 Argentine veterans broke into the tower. Now the city government wants to repair the damage. Mr Macri hopes to do the same for Argentina's battered relationship with Britain.
4. ARGENTINA TO BOOST CRUDE OIL OUTPUT TO 653,000 BPD BY 2025 – OFFICIAL (Reuters News)
By Marianna Parraga
May 26, 2016
May 26 Argentina aims to eliminate its need for crude imports while usincreasing domestic oil output to 653,000 barrels per day (bpd) in 2025, a 23 percent increase from 2015, an official from the Energy Ministry said on Thursday.
The South American country is working to cover its energy needs after becoming a net importer three years ago due to falling crude and gas output amid a low investment environment.
To achieve that, it needs to boost local output to cut crude imports and start reducing costly purchases of liquefied natural gas (LNG) currently made through tenders on the open market and from neighboring Chile.
"We don't believe in self sufficiency. We believe in supplying the country's needs," said Daniel Redondo, Energy Planning Secretary from the Energy Ministry, at a conference in La Jolla, California. "Self sufficiency would imply to have an exportable surplus and that is not going to happen soon."
At the end of 2015, Argentina's energy imports surpassed exports by $6.5 billion, Redondo said.
The ministry expects Argentina will be forced to keep buying costly LNG for at least five years. It offered to buy some 47 cargoes so far this year and it could buy up to 80 cargoes depending on the demand, also adding extra imports of gas oil in the coming weeks.
But incentives given to Argentine producers to enable them to sell their crudes domestically at a price of $55 to $67.50 per barrel would help reduce oil imports.
Redondo said this incentive will exist until the international benchmark, Brent crude which settled at $49.59 on Thursday, surpasses some $55 per barrel. Companies operating in Argentina, including Pan American Energy LLC, consider these domestic purchase prices attractive enough, the firm said.
Refining firms have imported 2 million barrels of African crudes this year to feed plants with light crude grades that are not abundant in Argentina, and they plan to import at least 1 million barrels more in the second half of the year.
Talks between producers and refiners are being held under the Energy Ministry's supervision to ensure all light oil produced domestically will be processed in the country. And new deep conversion units are being installed at local refineries to process more domestic heavy crude.
INVESTMENT NEEDED
The new government of Mauricio Macri is trying to attract foreign capital to the oil industry after a decade of low investment and the nationalization of its main producer, YPF.
It also wants to limit purchases of foreign petroleum to gas imports from Bolivia, considered cheap at a price of $3.2 per million BTU, and gasoil imports for winter.
The Energy Ministry estimates that some $50 billion will be needed until 2025 to develop upstream, downstream and electricity projects, including a 200,000-bpd expansion to the country's refining network and new thermal generation plants that were recently offered.
Argentina this month received 60 proposals from firms interested in installing power plants with a joint capacity of 6,000 megawatts, compared with 1,000 megawatts originally offered, the secretary said.
"In the energy sector we inherited a legal, institutional and functional disorder. Roles and responsibilities are not clear, decisions are discretionary and there's a lack of transparency," Redondo said. "We are trying to go back to normal."
Back to contents
5. ARGENTINA CENTRAL BANK HIKES RESERVE REQUIREMENTS TO CUT INFLATION (Reuters News)
By Nicolas Misculin
May 26, 2016
May 26 Argentina's central bank announced it would boost banks' reserve requirements in a bid to cut sky-high inflation in Latin America's third-largest economy.
The central bank said it would raise reserve requirements for in-demand deposits by 2.5 percentage points in June and again in July from its current 17 percent level.
Requirements for fixed-term deposits will increase 1.5 percentage points next month, and again the following month, from 13 percent currently, the bank said in a statement.
Center-right President Mauricio Macri took office in December promising to tackle a yawning fiscal deficit and dizzying inflation.
Finance Minister Alfonso Prat-Gay has said the pace of consumer price gains should fall to just over 1 percent by the end of the year.
But private data this month showed monthly inflation in Argentina's main population center of Buenos Aires approached 7 percent in April.
Back to contents
6. ARGENTINA RAISES RESERVE REQUIREMENTS IN INFLATION BATTLE (Bloomberg News)
By Charlie Devereux
May 26, 2016
* Amount banks must keep on deposit raised by up to 2.5 ppts
* Measure aimed at soaking up excess pesos to curb inflation
Argentina's central bank raised reserve requirements by as much as 2.5 percentage points as it seeks soak up excess pesos and rein in inflation of about 40 percent.
The amount banks must keep on deposit at the central bank was raised 1.5 percentage from about 13 percent for time deposits and 2.5 percentage points from about 17 percent for current accounts, the central bank said in an e-mailed statement. Banks will need to make a similar increase in July, the bank said.
Central bank President Federico Sturzenegger began lowering benchmark interest rates that went as high as 38 percent in March as concern of an economic contraction grows amid companies' investment cuts. Raising reserve requirements would allow the bank to continue reducing rates without abandoning its monetary contraction plan, said Maximiliano Castillo, director of Buenos Aires-based consultancy ACM
"It's another way of sterilizing pesos without having to raise rates so high," Castillo said by phone from Buenos Aires. "It complements the high rates."
Argentina's central bank cut interest rates in its weekly note sale by the most this year as it said that several indicators showed that underlying inflation continues to slow. The bank excluded foreign investors from participating in the auction as a surge in dollar inflows causes the peso to gain, dimming the outlook for exports.
Back to contents
7. ARGENTINA CREDIT-DEFAULT SWAPS RETURN FOLLOWING RECORD BOND SALE (Bloomberg News)
By Carolina Millan
May 26, 2016
* Swaps were last triggered in July 2014 after second default
* At least two entities are selling the CDS, according to CMA
Argentina is now creditworthy enough that investors are willing to sell insurance on its debt.
The country's return to global capital markets took another step forward this week when credit-default swaps, which investors use to speculate on a borrower's ability to repay debt and hedge against losses, were quoted Wednesday for the first time since they were settled in September 2014 following the country's second default in 13 years.
The contracts were quoted at 435 basis points as of 1:21 p.m. in Buenos Aires, according to prices compiled by CMA, meaning a buyer would pay about $435,000 to insure bonds with a face value of $10 million. The price is in line with the cost of insuring debt from El Salvador, which is rated two steps higher by S&P Global Ratings, and compared with 354 basis points for Brazil, the region's largest economy.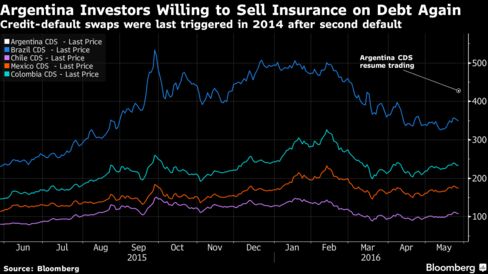 "Going forward, Argentina spreads should fall and approach those of Brazil," said Joaquin Almeyra, a fixed-income trader at Bulltick LLC. "There's plenty of room for spreads to compress further."
Argentina sold $16.5 billion of overseas bonds last month, a record for a developing nation, returning to the international market for the first time in 15 years after reaching a settlement with creditors the country defaulted in 2001. Argentina's CDS were last triggered almost two years ago when a U.S. judge's ruling barred it from servicing its debt without resolving the dispute, and sellers of the contracts had to pay $532 million.
CMA started quoting prices for the credit-default swaps on Wednesday after receiving data from at least two sellers, according to Jav Bose, the head of CMA content and analytics. Argentina is not among the top 1,000 entities captured by the Depository Trust & Clearing Corp.'s central registry for the default swaps market.
Responder Responder a todos Reenviar Más
Hacer clic en Responder, Responder a todos o Reenviar