1. THE POPE EMERGES AS KEY ELECTION PLAYER IN HIS NATIVE ARGENTINA (Bloomberg News)
2. ARGENTINA TELLS HSBC TO REMOVE CEO IN TAX EVASION DISPUTE (Bloomberg News)
3. ADVISOR TO ARGENTINA'S SCIOLI SAYS TAX STABILITY NEEDED (Reuters News)
4. CHILD STOLEN DURING ARGENTINA'S MILITARY DICTATORSHIP FOUND (UPI)
5. ARGENTINA ORDERS HSBC'S LOCAL UNIT TO NAME NEW PRESIDENT (Reuters News)
6. ARGENTINA'S OPPOSITION CANDIDATES UNITE IN CALL FOR ELECTRONIC VOTING (PanAm Post)
1. THE POPE EMERGES AS KEY ELECTION PLAYER IN HIS NATIVE ARGENTINA (Bloomberg News)
By Juan Pablo Spinetto and Charlie Devereux
September 1, 2015
*He has met candidates and president ahead of elections
*Wants to ensure peaceful handover of power in December
The leading candidate to be Argentina's next president has pledged to create a people's ministry of economy to "fulfill Pope Francis' dream." His main opponent has met twice with Francis in Rome.
President Cristina Fernandez de Kirchner has visited the pope six times in his two years in office.
It is no surprise that Argentine politicians, facing a first round of elections on October 25, want to bask in the glow of the planet's most influential Argentine and Roman Catholic. Perhaps more noteworthy is the way this pope seems to be playing along, offering his image and blessing to the cause of Argentine democracy.
"It is the pope's way of guaranteeing a peaceful handover of power," said Jorge Castro, director of the Institute of Strategic Planning in Buenos Aires, noting that political transitions in Argentina have usually brought crises.
While he has neither returned to his homeland since assuming the papacy in 2013 — despite visiting neighbors Brazil, Bolivia and Paraguay — nor favored any candidate, Francis has embraced numerous visits from fellow Argentines, including those with a political tinge.
Falklands Dialogue
Last month, at a weekly public gathering, an activist thrust into his hands a sign that called for dialogue between Argentina and the U.K. over the Falkland Islands, which belong to Britain but are claimed by the Argentines. The pope was photographed holding the small poster and smiling. President Fernandez tweeted the photo.
A spokesman for the Pope quickly sought to quash the attempt to link him to the cause, saying people often gave Francis things at such gatherings and he had no idea what the sign was at the time.
By his own admission, Francis finds it hard to abstain when he thinks his involvement can make a difference on a subject close to his heart. He has supported dialogue in disputes such as the one between Turkey and Armenia and the U.S. and Cuba.
In the Falklands case, though, advocating dialogue might be seen as taking sides. The U.K. sees such a call as an effort to open a closed case: There is nothing to talk about.
Exploited
The pope has publicly acknowledged the risk of being exploited by political causes and figures.
"I have to say it, sometimes I've felt used by the country's politics – by Argentine politicians asking for an audience," Francis said in an interview with Mexico's Televisa in March.
As Archbishop of Buenos Aires, the pope, then known as Jose Bergoglio, didn't shy away from involving himself in Argentina's abrasive politics. He criticized Fernandez and her late husband and predecessor Nestor Kirchner for failing to tackle poverty. In 2010 he led protests against her proposal to legally recognize same-sex marriage.
When he worked across the square from Argentina's presidential palace, the pope had trouble getting an audience with Fernandez, seeing her three times in six years, never in private.
Smooth Transition
Now he's come under fire from some in Argentina's media for meeting with her so often, a gesture that some see as an endorsement of her government and party in this election cycle.
The pope actually thanked Argentine journalist Alfredo Leuco for his frankness after he wrote an open letter saying that for Fernandez, "being able to show herself at your side is a big help for her."
It may be that for Francis a bit of political exploitation of his image is a small price to pay to achieve his objectives of ensuring a smooth transition of power on Dec. 10. Analysts say he is making a difference.
"All of Argentina's political cycles in the past 40 years have ended in a state of crisis and this time that's not the case," Castro, the political analyst, said. "Without a doubt one of the elements that has allowed for a transition without a crisis is the presence of Pope Francis."
Polarizing Effect
Francis has succeeded in bringing the main candidates together, after a fashion. Daniel Scioli, who received the most votes in primaries last month, invited Buenos Aires Mayor Mauricio Macri, his main opponent, to the launch of an exhibition on the pope at a book fair in Buenos Aires last year. He attended.
The pope's main concern seems to be to bring an end to the polarizing effect Fernandez and her late husband exerted over Argentine politics, said Enrique Zuleta Puceiro, a pollster and political analyst. By setting aside their fractious past and forging a friendship with Fernandez, he's played a subtle hand in changing the political climate in Argentina, he said.
"He understands that his voice reaches a long way in Argentina," Zuleta Puceiro said. "There's a rhetoric of collaboration in the air in Argentina that's replaced the rhetoric of conflict that characterized a good part of the last ten years."
2. ARGENTINA TELLS HSBC TO REMOVE CEO IN TAX EVASION DISPUTE (Bloomberg News)
By Charlie Devereux
September 1, 2015
*HSBC's Argentine unit told to remove CEO and one director
*HSBC accused of helping capital flight by wealthy Argentines
Argentina's central bank revoked the licenses of two top executives at HSBC Holdings Plc's local unit, including the chief executive officer, arguing they had failed to prevent clients from laundering funds and evading taxes.
Gabriel Martino, the bank's CEO, and Miguel Angel Estevez, a director, didn't adequately manage risks at the institution or implement proper internal and external controls, the central bank said. HSBC must inform authorities of its plans to replace them within 24 hours.
Martino "didn't direct the necessary actions to mitigate and address adequately the risk of prevention of money laundering and financing of terrorism," the central bank said in the statement.
HSBC allegedly helped clients hide assets abroad to avoid paying taxes through shell companies and using legal advisers and lawyers, according to a government presentation released to the media in November. Argentines held as many as 4,000 accounts at HSBC's Geneva branch, with only about 125 having declared funds, the presentation showed. HSBC has denied wrongdoing.
"HSBC Argentina continues to operate normally in the country," spokeswoman Lyssette Bravo said in an e-mailed statement. The company "complies with the laws and regulations that govern its activity in the country and will continue cooperating" with the justice system and regulators.
'Repatriate' Funds
The bank created a platform to allow clients to evade taxes by funneling funds to Swiss accounts worth as much as $3.5 billion, tax chief Ricardo Echegaray said at a press conference today in Buenos Aires.
Echegaray said he sent a letter to the central bank on July 17 asking for the board to review the status of the executives.
"The central bank measure is very positive, we see it as a very healthy decision," Echegaray said.
"Perhaps the decision will prompt the bank to come to the tax agency to resolve this problem. They have to repatriate $3.5 billion."
The U.K. bank in June agreed to pay 40 million Swiss francs ($42 million) to close an investigation by Geneva prosecutors into allegations of money laundering at its Swiss private banking unit.
The central bank in April removed Citibank Argentina's CEO from his post after the bank "ignored" local laws governing repayments on sovereign debt in a dispute with so-called holdouts led by billionaire Paul Singer.
3. ADVISOR TO ARGENTINA'S SCIOLI SAYS TAX STABILITY NEEDED (Reuters News)
By Juliana Castilla
1 September 2015
BUENOS AIRES, Sept 1 (Reuters) – Argentina's leading presidential candidate Daniel Scioli would seek to increase investment in mining by ensuring tax stability for foreign companies eager to exploit the country's vast mineral resources, a key campaign advisor said on Tuesday.
Hugo Nielson, head of the Latin American Mining Organization and an advisor to Buenos Aires province Governor Scioli, said policy predictability would attract investment in Argentina's gold, silver and copper fields. He said Argentina has a law ensuring taxes don't rise on specific projects, but the law has not always been applied.
"The mining investment law must be ratified to guarantee tax stability," he said in an interview. "You should not be able to add one single tax to a project once it is approved."
Scioli is a member of the party of outgoing President Cristina Fernandez, whose economic controls have scared off foreign investment. He has been leading the opinion polls ahead of the Oct. 25 presidential vote.
He has pledged to gradually change some policies while retaining the advances in social welfare made by Fernandez during her eight years in power.
Argentina taxed mining projects at a rate of 38 percent in 2013, the latest year for which data was available from the local CAEM mining industry chamber. That rate is much higher than the 20.4 percent rate in Chile and 12 percent in Peru.
"Mining could attract investment immediately because there are about 10 projects ready to go but just waiting for Argentina to send the right signal," Nielson said.
He mentioned Brazilian company Vale, which pulled out of a potassium mining project in 2012 after failing to get tax concessions from the Argentine government. The company had asked for tax breaks as global potash prices dropped, and to help ease soaring costs it attributed to high inflation and the controlled exchange rate in Argentina.
Analysts say consumer prices are rising at close to 30 percent. Scioli has vowed to cut inflation to single digits by the end of his first term. Fernandez is barred from running for a third term in October.
Nielson, who analyzes mining at Scioli's DAR (Desarollo Argentina) think-tank, said luring investment would be a top priority for the governor, who got 38 percent of the Aug. 9 open primary vote versus Mauricio Macri, the mayor of Buenos Aires whose coalition captured 30 percent.
Nielsen said Scioli would bring provincial governments together to ensure that local regulations do not discourage mining projects that are environmentally sound.
4. CHILD STOLEN DURING ARGENTINA'S MILITARY DICTATORSHIP FOUND (UPI)
By Andrew V. Pestano
September 1, 2015
There are more than 400 people who were abducted as children yet to be located.
BUENOS AIRES, Sept. 1 (UPI) — A woman in Argentina has been identified through DNA testing as a child abducted from left-wing political prisoners during the country's military dictatorship.
The Grandmothers of the Plaza de Mayo group was founded in 1977 with the aim of finding stolen children who were illegally adopted during the military government of Argentina between 1976 and 1983.
There are still more than 400 people who were abducted as children yet to be identified, but 117 have been located so far.
The woman found recently, identified as Grandchild No. 117, now knows her true origins. She was born in 1978 and was the daughter of Walter Hernán Domínguez and Gladys Cristina Castro, communist activists and members of the Marxist-Leninist Communist Party who were arrested in 1977.
In 1976, a coup d'état in Argentina established a military junta called the National Reorganization Progress, headed by Gen. Jorge Rafael Videla, that ruled until 1983.
María Assof de Domínguez and Angelina Catterino, the two grandmothers of No. 117, have long-searched for answers to the fate of their children and of their grandchild.
"We have waited for this day for years," Catterino said at a news conference on Monday.
Assof said she remembered how she and Catterino often took to the streets to look for the granddaughter whom they had never met.
"We were just housewives," Assof said through tears. "I was forced to come to Buenos Aires for the first time in my life to look for my son."
Their granddaughter was raised by civilians who had close ties to officials of the military dictatorship. Identification for her began in 1994, when a report surfaced that a baby mysteriously appeared in the home of a couple in the city of Mendoza at the height of military rule.
"We don't know what her name is yet," Assof added. "But we want to tell her that she has several cousins and uncles. We want her to feel happy. That's our only wish."
Grandmothers of the Plaza de Mayo released a video of the announcement by group leader Estela Barnes de Carlotto, at which Catterino and Assof were present.
5. ARGENTINA ORDERS HSBC'S LOCAL UNIT TO NAME NEW PRESIDENT (Reuters News)
By Richard Lough
September 1, 2015
(Reuters) – Argentina's central bank on Tuesday ordered HSBC Argentina to name a new president and vice president within 24 hours, accusing the bank of failing to establish necessary controls to prevent tax evasion and money laundering.
Argentine authorities locked horns with HSBC in November when they charged the bank with helping more than 4,000 clients evade taxes by stashing their money in secret Swiss bank accounts.
HSBC rejected the charge, but Argentina said in March it wanted HSBC to repatriate $3.5 billion that Argentine tax authorities said the bank had moved offshore.
The central bank said on Tuesday that HSBC's president, Gabriel Martino, "had not directed the necessary measures to mitigate and adequately address the prevention of money laundering and the financing of terrorist activities."
HSBC has consistently said it respected Argentine law.
"HSBC Argentina continues to operate normally in the country," it said in a statement, adding that it "will continue to cooperate with the justice system and regulators."
Ricardo Echegaray, head of Argentina's AFIP tax agency, called the central bank's move "positive". He said the bank's clients who had moved money abroad through secret channels should accept criminal liability and pay the taxes owed.
"They will have to recognize that together with Martino, and the HSBC authorities here in Argentina, they looked to cheat Argentina, to move funds abroad that they had never declared and on which they had never paid taxes," Echegaray told a news conference.
Argentina's central bank has the authority to revoke the licenses of officials who legally represent commercial banks before the financial regulator.
Europe's largest bank faces probes in several countries of allegations it helped clients dodge taxes.
6. ARGENTINA'S OPPOSITION CANDIDATES UNITE IN CALL FOR ELECTRONIC VOTING (PanAm Post)
By Belén Marty
September 1, 2015
Fraud Allegations in Tucumán Incite Appeals for Electoral Reform
In response to allegations of electoral fraud in the northwestern province of Tucumán on Sunday, August 24, the presidential candidates representing Argentina's opposition have proposed the country resume using electronic ballots in future elections.
Argentineans have successfully used electronic ballots twice this year during the mayoral election in Buenos Aires in July.
Opposition leaders made the call for changes in the voting system on Thursday, August 27, following accusations of fraud in the election for governor in Tucumán, which was marred by violent clashes between protesters and police and the burning of ballot boxes.
"In light of the recent irregularities registered in local and national elections, this change is urgent, and aims to provide real transparency and efficiency to the most important act of all modern democracies: the elections," said the Radical Civic Union (UCR) in a press release.
National Electoral Director Alejandro Tullio told local newspaper La Nación that making a change to the electoral system during an election year would be a "huge irregularity."
Cabinet Chief Aníbal Fernández, who is currently running for governor of Buenos Aires, said he was unaware of the allegations of fraud in Tucumán and is opposed to making any changes to the voting system so close to the election.
"Do you know any place where the voting system was changed only 50 days ahead of an election?" he questioned. "This is one of the many lies [the opposition tells] to appear as if they are serious and concerned; they lose the election, and then they do this pantomime."
In a rare show of unity for the Argentinean opposition, presidential candidates running against the ruling coalition held a press conference on Wednesday, August 26, to express their concern over the situation in Tucumán. The candidates also asked the government to guarantee transparency in all future elections.
Sergio Angelini, chairman of the Grupo MSA, the company which provided the electronic voting system in Salta and Buenos Aires, says there is "no chance" of implementing an electronic ballot by October's presidential election. Angelini says there is not enough time to adequately train people to oversee the process.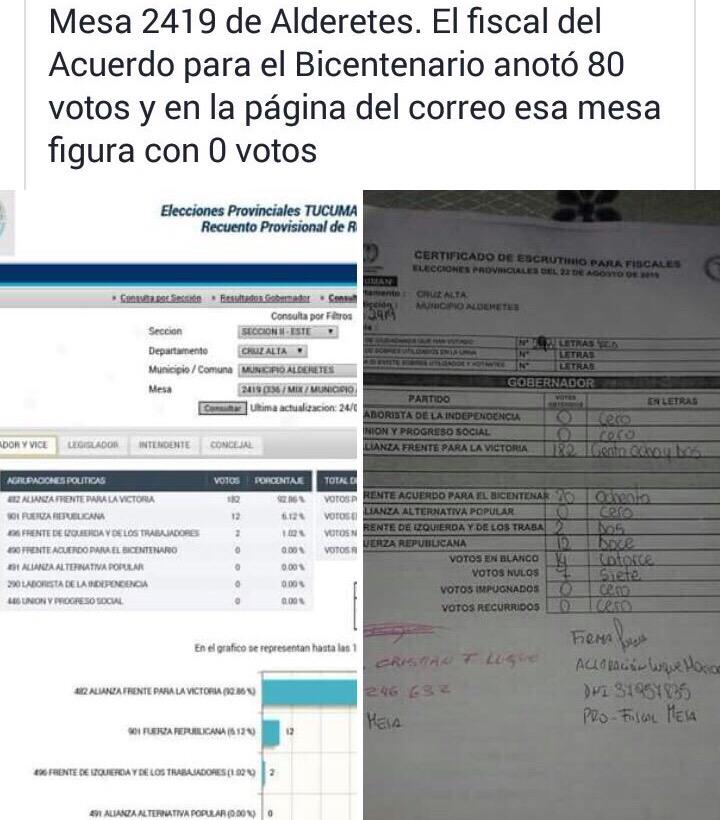 "It would be a qualified vote, because there would be people that understand the system and others who do not," he said.
Election Fraud Claims
Angry residents in Tucumán, who claim the government manipulated the election results, took to the streets on Sunday, August 30, for the seventh consecutive day of protests. Demonstrators are demanding a new election, while the defeated opposition candidate for governor, José Cano, is asking for an annulment of the results.
Cano claims two employees of the state-run mail company Correo Argentino, which is tasked with distributing election materials, have admitted to using strategies that altered the outcome of the election.
Election officials are currently recounting ballots and expect to have definitive results by mid-September. As of Monday, August 31, officials have reviewed 378 ballot boxes, and have Cano in the lead with 47.28 percent of the vote, five points ahead of ruling-party candidate Juan Manzur.
Violent Protests
Protesters clashed with police on Monday, August 24, in Tucumán, after the preliminary results of the election revealed a landslide victory for Manzur with 55 percent of the vote.
Police Chief Dante Bustamante says protesters acted aggressively and security forces "followed protocol."
"During that so-called peaceful demonstration, three police officers were injured. So, what peaceful protest are you talking about?" he said.
Responder, Responder a todos o Reenviar | Más